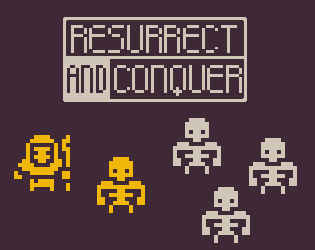 Resurrect And Conquer
Made for the Kenney JAM 2022
The undead are here, and they seek domination! Fight for the living by resurrecting the fallen to build your army against a relentless, ever-growing enemy.
In Resurrect and Conquer, you'll battle against time to convert foes into friends, defeat your enemy, and restore balance to the living!
Controls:
Hold right click on the character, move the cursor and then release right click to move.
You can right click while your cursor is on a foe to convert him into a ally. You can only have two allies at a time. They can sacrifice themself to bring a foe down with them.

Press R to restart the round.

Credits:
Dev/Design: Herweins: https://herwe1ns.itch.io/
Music/SFX: SteveBase: https://stevebasemusic.com/µ

Assets used: https://www.kenney.nl/assets/bit-pack